Affordable Electrical Panel and Circuit Breaker Repairs
We inspect your existing residential electrical panel and advise on fixes or upgrades.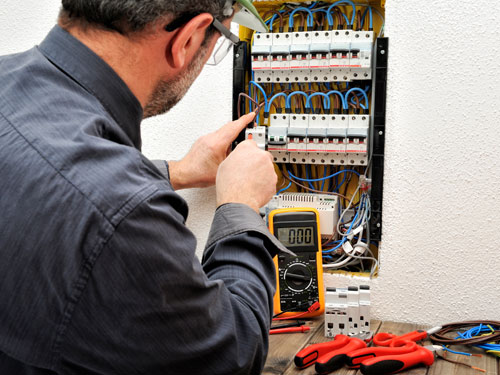 Your Phoenix-area home runs on electricity. When there is a higher demand for your devices, less energy is dispersed to your outlets and switches. Older homes are especially prone to this since aged electrical panels typically only produce up to 80 amps. Residential electrical panels available today can provide up to 200 amps throughout your home.


Demand problems are the leading causes of flickering lights, unexplained power outages, and temperament light switches. It can also be the source of a faulty circuit breaker. More serious indicators for residential electrical panels are blown fuses and tripped breakers. If either of these happens, our highly-recommended electricians can determine the cause of the problem by completing a panel or breaker evaluation.


The Mighty Electricians are licensed professionals that provide electric panel upgrades and replacements for Phoenix-area residents. We will inspect your existing residential electrical panel and advise on recommended fixes or upgrades. Our goal is to help your home efficiently distribute energy to all your outlets and switches for less. We are here to help you stay powered on all throughout your home.


Since 1999, we have helped many homeowners with their electrical needs from adding extra outlets to full-house rewiring. Some of the leading reasons why you should look to The Mighty Electricians to handle your residential electrical panel replacement include:

Our experts are licensed and bonded
We provide dust-free services, cleaning up all dust and drywall residue from our work

Our work is guaranteed
We are trusted and referred "Rosie on the House" contractors
Before you find yourself without power, hire The Mighty Electricians for a circuit breaker inspection. We are available 24/7 to provide scheduled and emergency electrical services throughout Phoenix, AZ. We do everything from light fixture installations, complete rewiring, and circuit breaker replacements. Contact us today for a consultation for your next panel or circuit breaker upgrade.


---
Savings

---
Save $20.00

---
Service Beyond Expectations!
Protect yourself and your home from electrical hazards.
---
Electrical Safety
We at the Mighty Electricians want to keep your home and business safe…..
---
APS Customers Save Money!
All of us at Mighty Electricians, Inc. welcome you to our web site. We are available 24 hours a day, 7 days a week to serve homes.
---
Hours of Operation
Mon. - Fri. 7:00am -5:00pm
24 hours / 7 days
Emergency Service!